On Sep 07th, 2022, ONUS's Bug Bounty program has been officially announced to the public on WhiteHub platforms.
(Tiếng Việt bên dưới)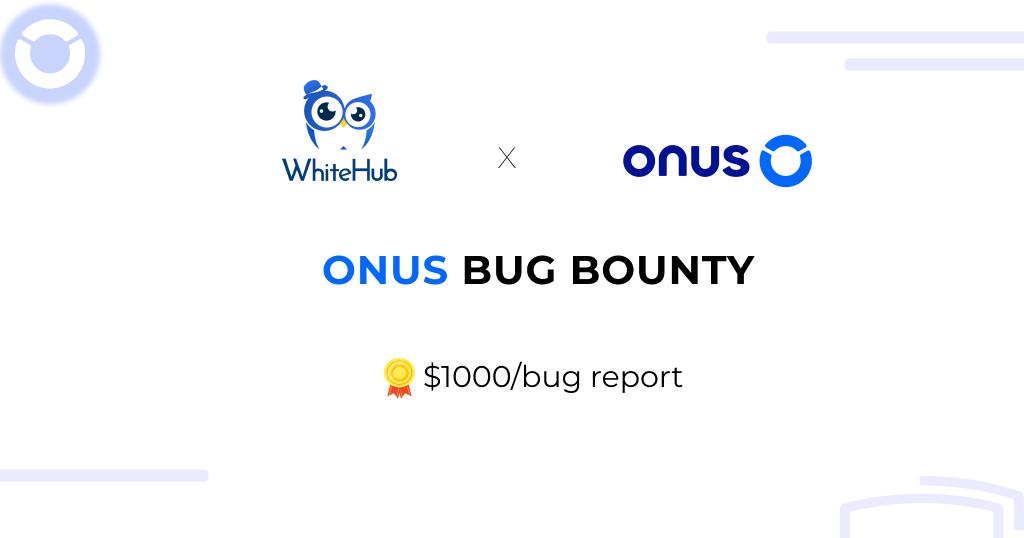 About ONUS
ONUS is currently one of the most popular apps for investing in cryptocurrencies in Vietnam. ONUS has more than 2.5 million users and a full ecosystem of financial products for investors.
With ONUS, even people with limited trading experience or time commitments may get in on the cryptocurrency investment action with a minimum investment of just 200,000 VND.
ONUS Bug Bounty Program
Continuously facing the threats of cyber attacks in the blockchain environment, the ONUS team has been looking for active solutions, and Crowdsourced Security – operating the Bug Bounty Program is one of them. It helps to connect the cyber expert's community to find vulnerabilities before any black hat hacker could exploit them for malicious purposes.
Understanding the benefits of Bug Bounty to their system, ONUS deployed their Bug Bounty Program on CyStack's WhiteHub platform. The bounty for each critical vulnerability discovered is up to 1000 USD.
Program Overview:
Program Name: ONUS Bug Bounty
Announced on: Sep 07th, 2022
Program Type: Public
Managed by: WhiteHub team
Highest Bounty: 1000 USD
Join the ONUS Bug Bounty Program now at: https://whitehub.net/programs/onus/
---
Vào ngày 07 tháng 09 năm 2022, chương trình ONUS Bug Bounty đã được công bố công khai trên nền tảng WhiteHub
Về ONUS
ONUS hiện là một trong những ứng dụng đầu tư tiền mã hoá được sử dụng nhiều nhất tại Việt Nam với hơn 2.5 triệu người dùng và một hệ sinh thái đầy đủ các sản phẩm tài chính dành cho các nhà đầu tư.
ONUS giúp cho bất cứ ai cũng có thể tham gia đầu tư tiền điện tử, bắt đầu với số vốn rất nhỏ chỉ từ 200,000đ, đặc biệt là những người mới hoặc những người không có nhiều thời gian giao dịch.
Chương trình Bug Bounty của ONUS
Đối mặt thường xuyên với các mối đe dọa tấn công bảo mật trong lĩnh vực blockchain, đội ngũ ONUS đã tìm kiếm các giải pháp bảo mật chủ động cho hệ thống của họ và Bảo mật cộng đồng -bằng cách vận hành chương trình Săn lỗi nhận thưởng là một trong những giải pháp được lựa chọn triển khai. Giải pháp này kết nối các chuyên gia giúp tìm kiếm lỗ hổng bảo mật cho các sản phẩm trong hệ sinh thái của ONUS
Hiểu được những lợi ích của chọn nền tảng CyStack's WhiteHub để triển khai chương trình Bug Bounty của họ. Tiền thưởng cho mỗi lỗ hổng nghiêm trọng được phát hiện lên đến 1000USD.
Tổng quan về chương trình:
Tên chương trình: ONUS Bug Bounty
Công bố vào: 07 tháng 09 năm 2022
Loại chương trình: Công khai
Được quản lý bởi: Đội ngũ WhiteHub
Tiền thưởng cao nhất: 1000 USD
Tham gia ngay chương trình bảo mật cộng đồng của ONUS tại: whitehub.net/programs/onus