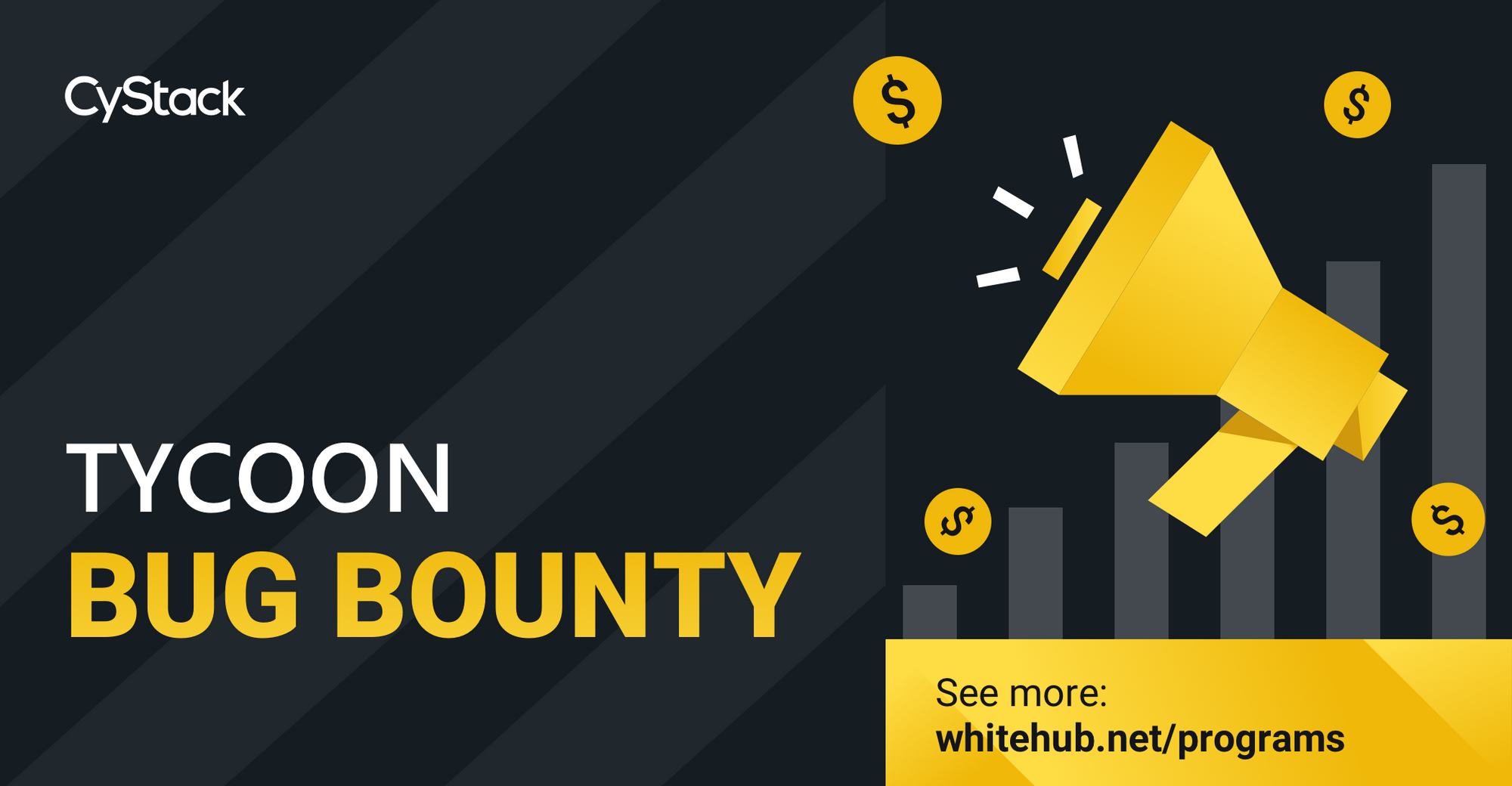 Vietnamese below / Bài viết Tiếng Việt ở bên dưới.
On September 30th, Tycoon.io Bug Bounty program was officially announced on the WhiteHub platform as a public program.
Tycoon.io is a growing crypto trading platform founded in 2019 with a vision to provide countless benefits and safe transactions for users, facilitating full control over assets. It is also the first social trading ecosystem focused on creating a bridge between beginners and advanced crypto traders.
As you may have noticed, blockchain has grown rapidly in recent years, and cryptocurrency is not immune to security attacks. Crypto trading platforms such as Tycoon.io are facing many cybersecurity risks, and they are aware of it. That is the reason why the decision to launch a Bug Bounty program, which is superior in efficiency compared to traditional pentests, was made. Located in Cyprus, an island nation in the eastern Mediterranean Sea, Tycoon.io had looked for a cybersecurity partner to entrust the security of its platform, and chosen CyStack's WhiteHub platform to deploy their Bug Bounty program. The bounty for each critical vulnerability discovered is up to 260 USD.
Program Overview:
Program name: Tycoon.io Bug Bounty
Announced on: September 30th
Program Type: Public – all researchers may join.
Managed by: WhiteHub
Highest Bounty: 260 USD / vulnerability.
WhiteHub researchers can request to participate by searching Tycoon.io's Bug Bounty program at: whitehub.net/programs
---
Kể từ ngày 30 tháng 9, chương trình Tycoon.io Bug Bounty đã chính thức được công bố trên nền tảng WhiteHub.
Tycoon.io là một nền tảng giao dịch tiền điện tử hoạt động từ năm 2019 với tầm nhìn nhằm cung cấp rất nhiều lợi ích cũng như giao dịch an toàn cho người dùng, cho phép người dùng kiểm soát tài sản một cách toàn diện. Đây cũng là hệ sinh thái giao dịch xã hội (social trading ecosystem) đầu tiên tập trung vào việc tạo mối liên kết và cầu nối giữa những người mới bắt đầu và những chuyên gia trong giao dịch tiền mã hóa.
Như bạn có thể thấy, công nghệ blockchain đã phát triển rất nhanh chóng trong những năm gần đây, và trong đó tiền mã hóa không thể tránh khỏi các cuộc tấn công bảo mật. Các nền tảng giao dịch tiền mã hóa như Tycoon.io phải đối mặt với nhiều rủi ro an ninh mạng và họ nhận thức được điều đó. Đó là lý do Tycoon.io quyết định triển khai chương trình Bug Bounty, với hiệu quả vượt trội hơn so với phương pháp pentest truyền thống. Tọa lạc tại đảo Síp, một quốc đảo ở phía Đông biển Địa Trung Hải, Tycoon.io đã tìm kiếm một đối tác an ninh mạng đáng tin cậy để ủy thác bảo mật cho nền tảng của mình, và đã chọn nền tảng WhiteHub của CyStack để triển khai chương trình Bug Bounty. Tiền thưởng cho mỗi lỗ hổng nghiêm trọng (critical) được phát hiện có thể lên tới 260 USD.
Tổng quan chương trình:
Tên chương trình: Tycoon.io Bug Bounty
Ngày công bố: 30/9
Loại chương trình: Public – Tất cả chuyên gia có thể tham gia
Quản lý bởi: WhiteHub
Tiền thưởng cao nhất: 260 USD / lỗ hổng.
Các chuyên gia có thể yêu cầu tham gia bằng cách tìm kiếm chương trình Bug Bounty Của Tycoon.io tại whitehub.net/programs